What Russell Wilson's Deal Means For Dak Prescott
Today, Russell Wilson inked a deal making him the highest paid QB in the NFL. Wilson and his wife, Ciara will see enough green raining from the sky that would make the late Prince change the name of his hit song. What does this cha-ching mean for the rest of the NFL? More importantly, what does this mean for Dak Prescott? Jerry Jones may have to get into old-boy-wallet for this one.
Since joining the league in 2016, the only quarterback to have more wins in a season than Prescott (32) is Tom Brady (35). Most impressively, Prescott has done this without a top-tier receiver for most of his career. Prescott landed in the perfect situation in 2016. When longtime starter Tony Romo and backup Kellen Moore both went down in the preseason, Prescott was forced into action early.
Prescott inherited a mauling, dominant offensive line and rookie star running back Ezekiel Elliott to aide his learning curve. What happened was sweet, sweet music. Now, three years later, Prescott has two NFC East titles, two playoff appearances, and one playoff win under his belt. The Cowboys front office has done a great job of quickly reloading with young talent surrounding Prescott. The time is built to take the next step into legitimate Super Bowl contenders. Which brings the team to a crossroads. What to do with Dak Prescott? Especially off the heels of the Wilson deal?
Option 1: Pay Dak Prescott
After signing DeMarcus Lawrence to his five year $101 million dollar deal, Dallas could go ahead and pay Prescott now. Wilson's deal further solidified the ever increasing economic value that quarterbacks provide NFL teams. The big question here is: is Dak Prescott worth $30 million dollars per year? The win column says to pay the man!
Prescott averages 10 wins a season and has shown great poise and playmaking ability when Dallas needed it most. Since joining the league, Prescott has 14 game winning drives. While his stats don't jump off the page, the results speak for themselves.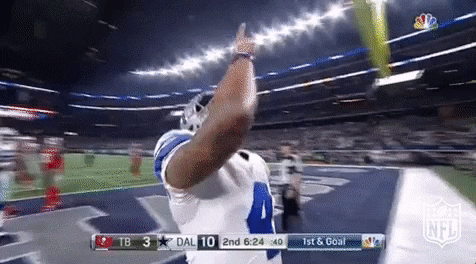 Off the field, Prescott has been a quality representative of the Cowboys organization. There are almost zero character issues and no off-field issues. If Dallas is going to invest long term in Prescott, their investment has to be worth it off the field as well.
Option 2: Roll the Dice and Wait
Prescott's on the field play at times has been erratic. There have been times where he looked completely lost in the offense. That's normal with the growing pains that come with a young quarterback in the NFL. With his fourth round draft capital, Prescott has certainly well exceeded expectations.
Here's the rub. Dallas could try to get Prescott to take a discount so they could have more money to keep the rest of the core in tact. However, that's a risky proposition. Asking players to take a pay-cut can create tensions between the organization and the player. Just ask the Steelers and Le'Veon Bell.
Leaders and playmakers like Prescott are a dime a dozen. However, with the upcoming draft classes featuring quality quarterback talent, Dallas could still decide to look elsewhere if a deal can't be struck. Messing with team chemistry is not often a recipe for success. Jones is not afraid to roll the dice. After all, he let DeMarco Murray walk coming off of the back of an 1800 yard rushing season in order to pay Dez Bryant.
It still stands to reason, players like Prescott and Wilson are truly a dime a dozen. There's a fork in the road approaching for the Cowboys. A crossroads that could dictate the teams future for the next five to six years. Which path will they take?